Symposium 2018 Orlando - Day 1 Keynotes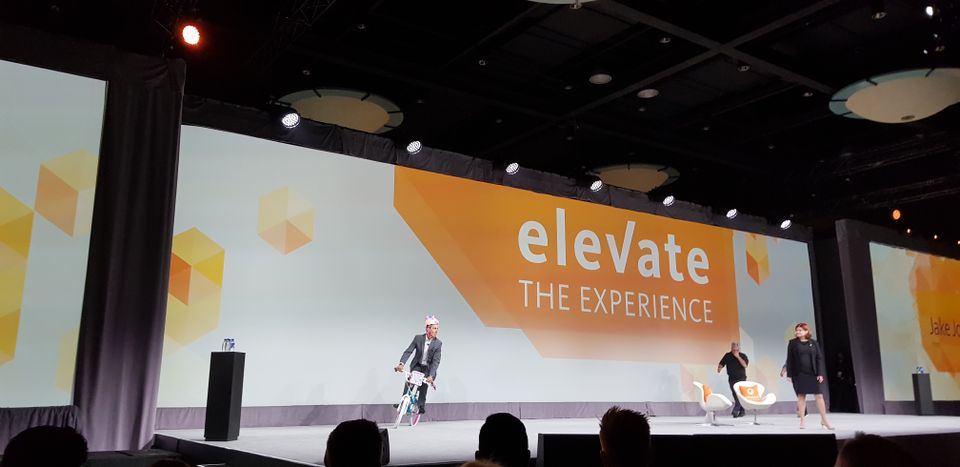 The venue
From the 9th untill the 11th of October, the Sitecore world was looking with forward to what the Symposium will bring.
And this year was definitely better than the event in Las Vegas last year. Although the location now had its problems.
Sessions were held in 2 different hotels: the Disney Swan and Dolphin hotels.
Although they are really close to eachother - like 5 minute walking distance - it was sometimes difficult to be on time for a session. And people in general felt more in a hurry when switching sessions. The fact that not all keynotes and presentations finished on time also didn't help.
This probably also impacted the Partner Pavilion in the Swan hotel a bit. I felt that visitors spent less time there.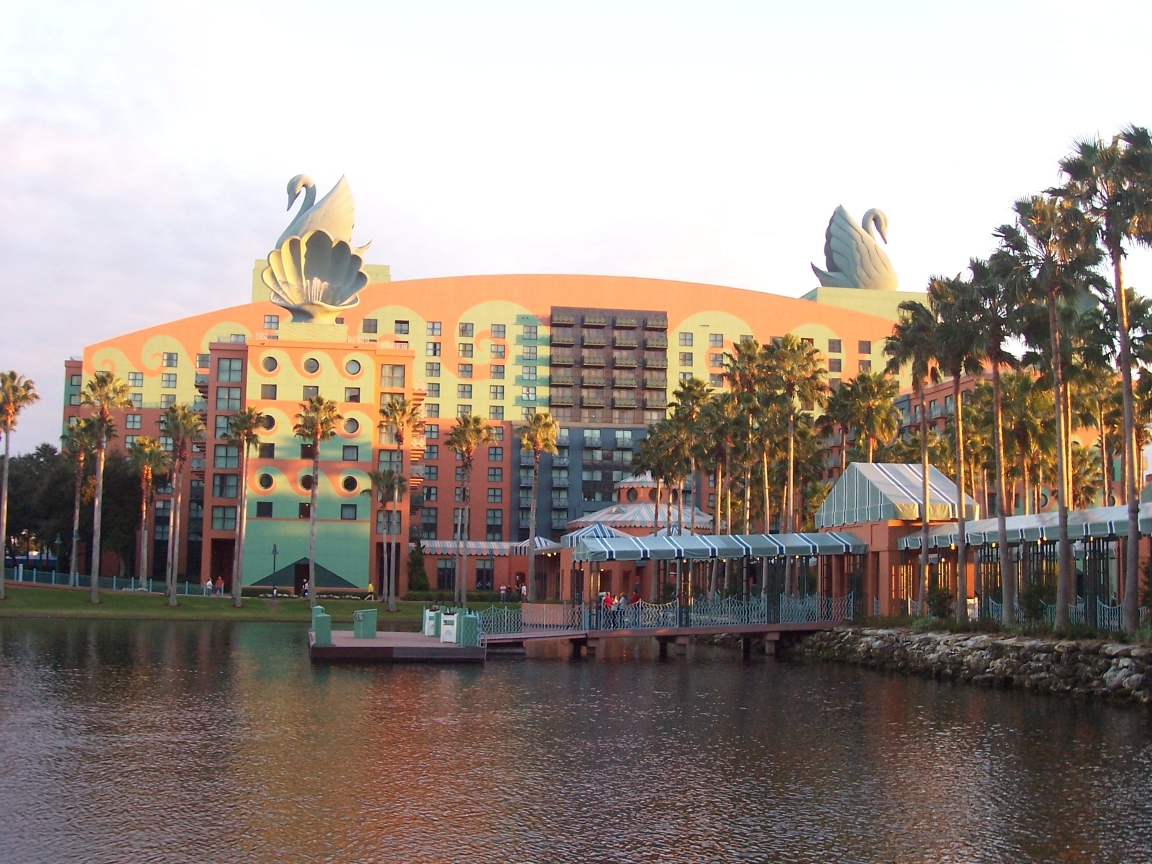 The biggest difference with last year was that we actually saw new things instead of only having to hear about announcements.
The Symposium is 2,5 days stacked with keynotes, sessions and off course the Sitecore Symposium party evening event on the 2nd day.
Day 1 - What news will Sitecore bring
Tuesday 9 October
The opening keynote is always important and sets the main topics that everyone will talk about during the symposium.
And this year was not different. The opening keynote by Mark Frost (CEO) and Page O'Neill (CMO) really set the tone for the symposium.
Together with comedian Jake Johanssen as MC who really 'Elevated the Experience' at the Symposium.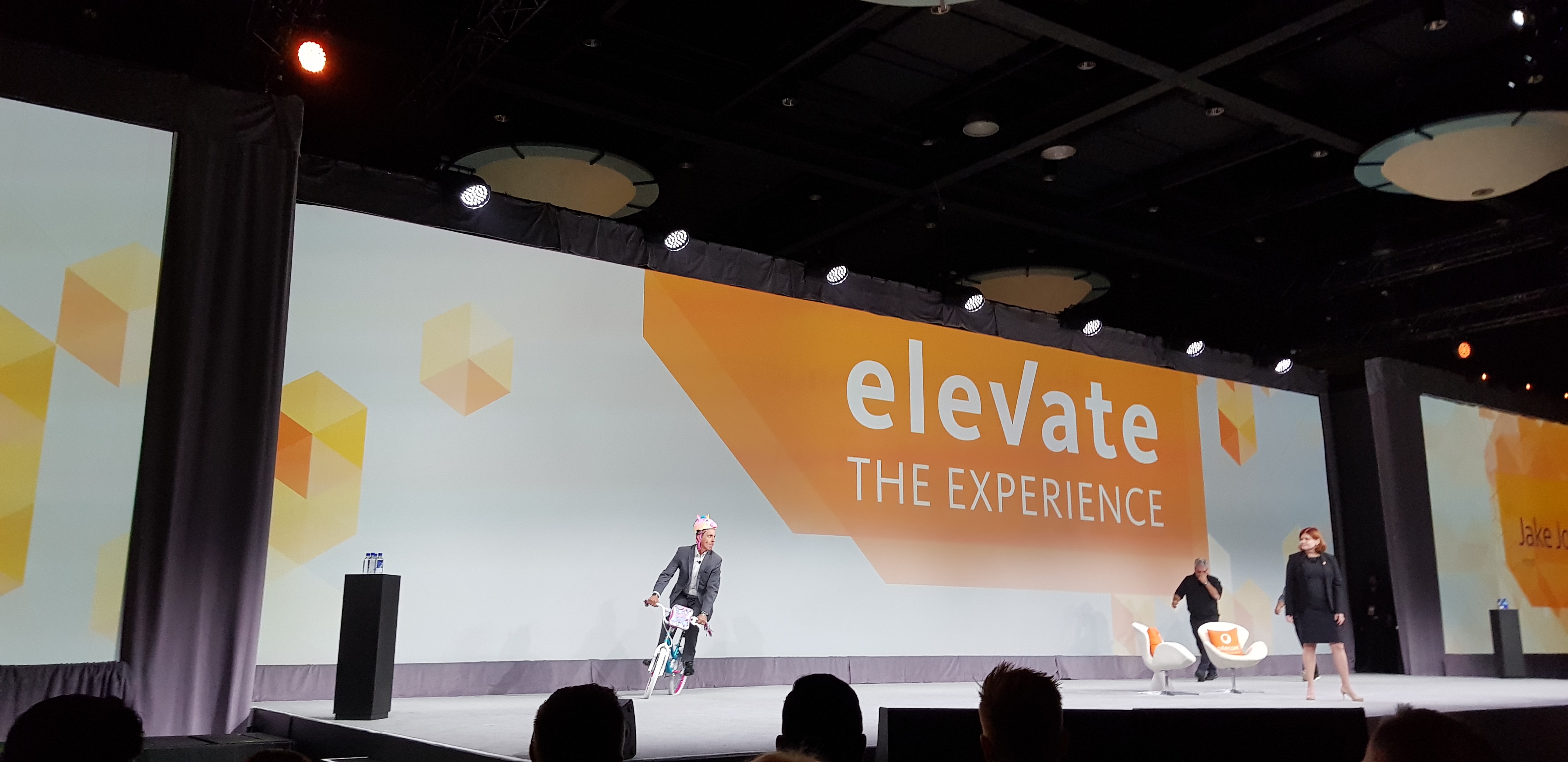 My short take-aways from the keynote:
When buying products, customers who enjoy the experience will often buy more/frequently. So the focus of companies should not only be on the products themselves but on the experience.
And guess what Sitecore is all about, it's about Elevating the Experience!
Sitecore also announced the intent to acquire Stylelabs. A Belgian company which service is focused on MRM, PIM and DAM.
To be honest, it was the first time that a lot of people heard about MRM which stands for Marketing Resource Management.
But the demo we received on the last day showed what Stylelabs is capable of and how the integration with Sitecore will be possible.

I'll dive into Stylelabs in another blog post.

Another announcement was the more elaborate integration with Salesforce. Sitecore is committed to provide better integration with Salesforce. Including the Salesforce Marketing Cloud Connector. You can for example push images from the Sitecore Media Library to Salesforce.

The final announcement of Mark Frost was the long awaited release of Sitecore JavaScript Services! The Sitecore solution for going headless.

There were a lot of sessions on this topic. Some went through the basics of headless and others were more advanced.
JSS has been in development for 2 years now and is currently in tech preview version 4. Together with the new Sitecore 9.1 Experience Cloud version, JSS will be available somewhere in November.
After the exiting news that Mark Frost presented us, the keynote was continued by Page O'Neill who showcased 2 different companies and the way they innovate: Volvo Cars (Car as a service offering) and Cannondale (use cycling history to suggest your perfect bike).
The keynote was wrapped up with a talk about and some very inspiring videos about the SickKids foundation. A Canadian non-profit organization fighting for children's health.
SickKids held a marketing campaign to raise their number of subscribers to increase funding. I think a lot of companies can learn from how they tackled their marketing campaign & automation.
Looks like Marketing Automation #sitecore #sitecoreSYM #sickkids pic.twitter.com/nyOV5r4PRm

— Tony Mamedbekov (@tmamedbekov) October 9, 2018
During the Symposium every attendee was able to participate in a fundraiser. By cycling for 3 minutes, Sitecore will donate $25.
We all together raised the amount of $50,000 ($25,000 raised + additional $25,000 of Sitecore)!
This means that 1000 people rode that bike and a total of 50 hours!
Lets all ride that bike! #goodcause #SitecoreSYM @sickkids pic.twitter.com/XbR6lZoURj

— Koen Heye (@koenheye) October 9, 2018
I'll leave you with an inspiring video about SickKids:
Day 1 - Keynote by Mick Ebeling: The fallacy of "Impossible"
Mick is the founder of Not Impossible Labs and gave us insights on how technology can make the impossible, Not Impossible.
Not everything will always work right away, you have to commit and then figure it out to achieve the result that you want. And for that, you sometimes have to be a mad scientist, like himself.
Three examples were shown:
a 3d printed prostethic
eye tracking solution for creating art (patient is diagnosed with ALS)
a non-pharmaceutical device to improve Parkinson's by a device that was initially meant for feeling different music instrument vibrations for deaf/hearing impaired people.
Watch his inspiring TED presentation about the 3d printed prostethic for a young Sudanese boy (one of the examples he talked about on the Symposium too:
Day 1 - Technical keynote by Deane Barker: Headless CMS and the great uncoupling
At the same time, a Marketing keynote was also given:
"Drew Nessier: The four traits of successful marketers". Since I'm more technical, I went to the presentation on Headless CMS.
Deane gave some insights on why Headless is a hot topic right now.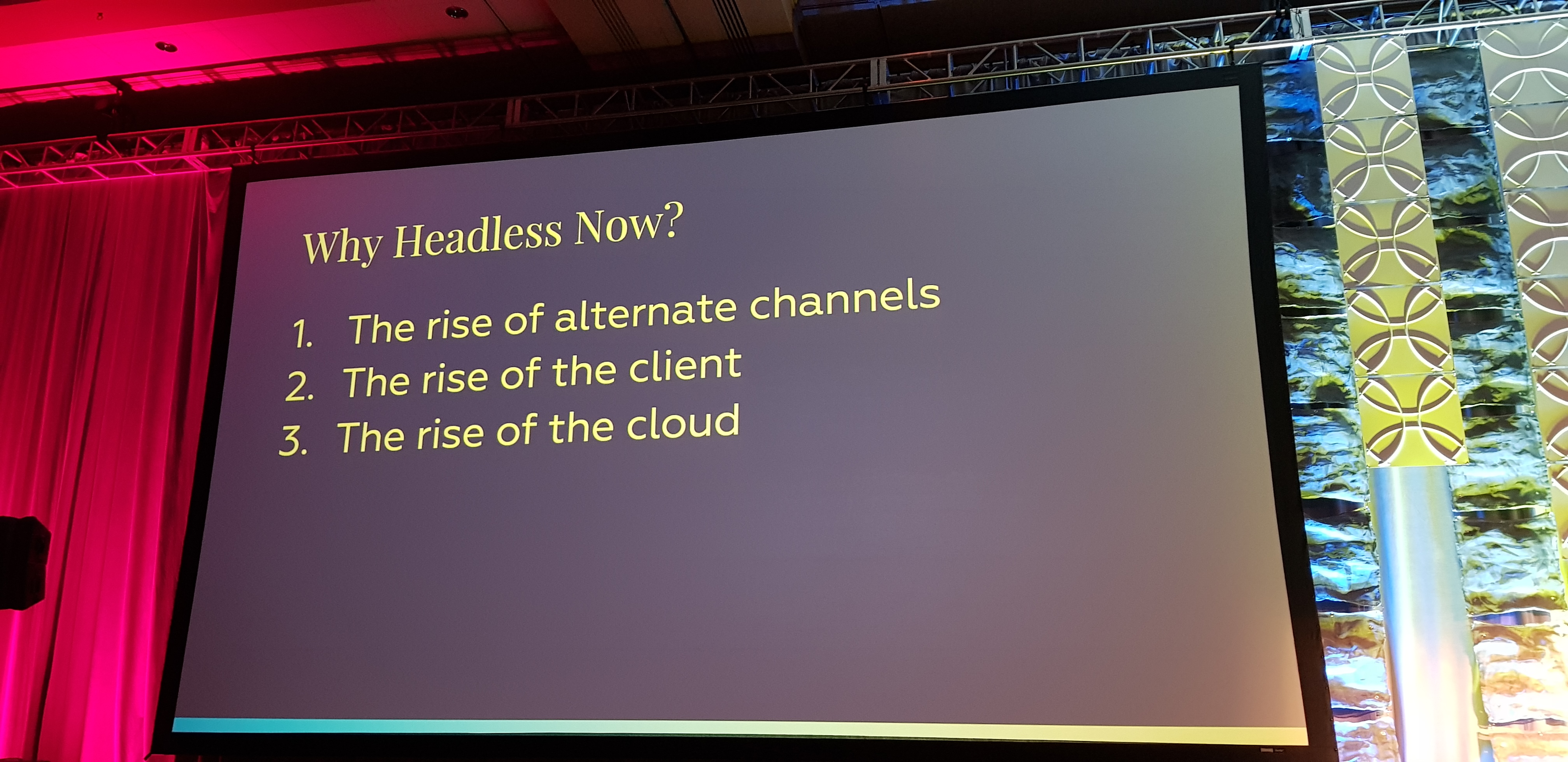 The current CMS market has more matured and is more crowded too. Current Headless vendors are selling more to IT instead of Marketing. However, Marketing still needs personalization and tracking. And current headless vendors are thus integrating these functionalities.
While Sitecore on the other hand already has this kind of functionality available!
A headless CMS is also more of a content repository system. And this is exactly where Sitecore is going with Sitecore JSS.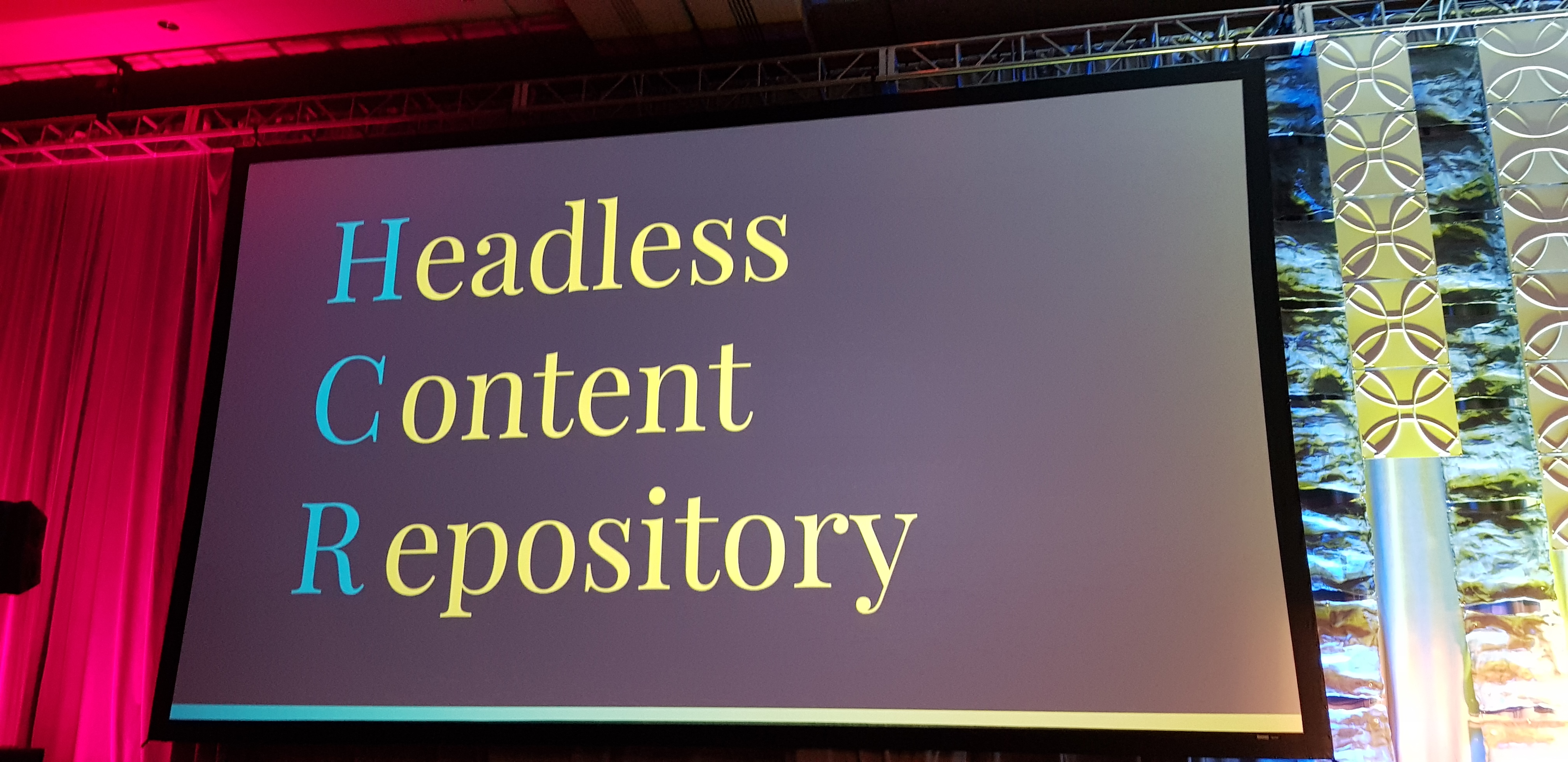 Day 1 - Closing keynote by Daymond John
After the first keynotes we were able to attend several sessions which you can read about in the next blog post.
The first Symposium day was closed by Daymond John. A well known American entrepeneur which also appears as an investor on the reality tv series Shark Tank.
I had not heard of him, but apparently he is also famous for creating the clothing line FUBU. Which I spotted in Miami a few days after the Symposium.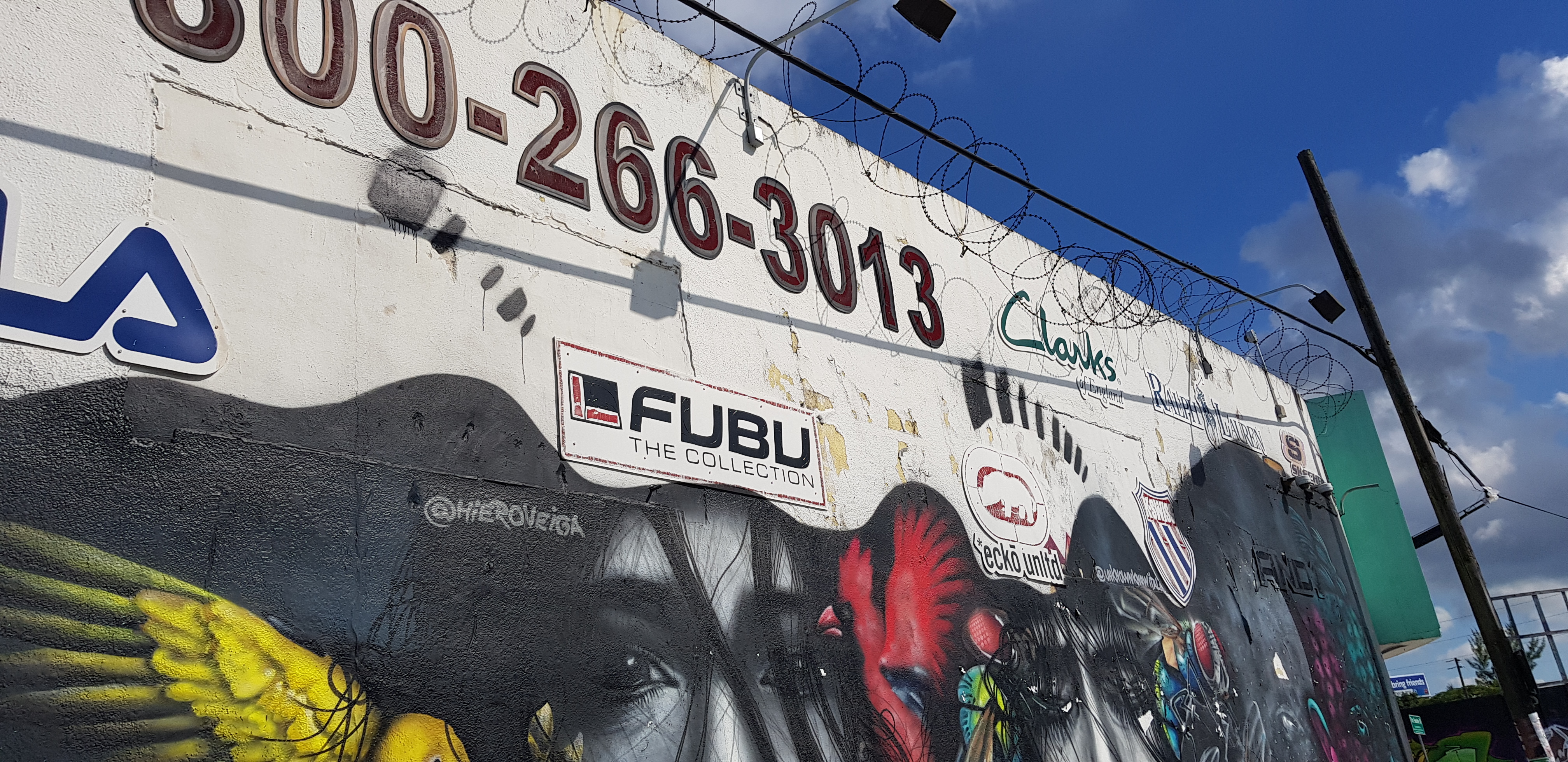 He had a very inspirational talk in which he presented his 5 SHARK points:
Set goals: start setting goals. To get where you want to be, set goals in life. Short term or long term, always work toward a goal and challenge yourself.
Homework: do your research and analytics. Know yourself, your competitors, your customers, your product.
Amore: love what you do and ask yourself who you are doing it for
Remember you are the brand: Be transparent and try to be able to brand yourself in 2 – 5 words. You are the brand and you need to be able to sell yourself.
Keep Swimming: don't give up and learn from your failures as opportunities.

To be honest, the keynote took a bit too long. For me it had some value but I can understand that not everyone was super enthusiastic about it.
But hey, we got Shark Cocktails!

All Sitecore Symposium 2018 blog posts
I'll update this section with links to all related posts regarding the 2018 Sitecore Symposium.
Symposium 2018 Orlando - Day 1 Keynotes (this post)